Posted on February 02 2018
From: INSIDE TAILGATING By Carroll Walton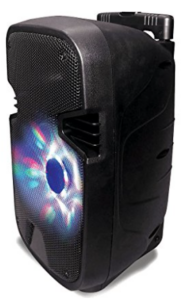 Super Bowl week is finally here, and you've got six more days to prep for your big party. We've got an idea for a way you can "amp" it up bigtime – with Coby Mobile Tailgate Subwoofer Bluetooth Speakers! Then once your party is over, you can pack them up and bring them out again for your next tailgating season. You can turn any tailgate scene into an instant party, whether next up for you is NASCAR here in a few weeks, spring training, or spring football.
These indoor/outdoor speakers with built-in subwoofers allow you to connect your streaming music via Bluetooth – no cords, no fuss! – and they have cool multi-colored LED lights that flicker to the beat of the music. Seriously?! Plus, they come complete with wheels and a handle (think carry-on suitcase) which makes taking them on the go super easy.
We're giving these bad boys a thumbs up – anything with "tailgate" in the name gets our attention to begin with. Here are a couple of ways to order them online and still get them in time for Sunday night's game through Amazon or Walmart.